We aspire to be a 100 year old company that is loved,
trusted and respected by both customers and suppliers.
Tomoe Group started with the foundation of Tomoe Shokai in 1947. It was a small automotive parts store in Kobe city at that time. Now, we have grown into a trading company dealing with overseas suppliers in Asia and North America. Making full use of solid relationship with our suppliers fostered during the 70 years and global network (Japan, China, Southeast Asia, and North America), we provide not only commercial and logistics services but also ideas and concepts such as modular concepts, domestic and overseas procurement and new market development that respond to market changes flexibly and quickly as a specialized trading company and organizer.
Nobuhiro Yanase, Chairman and CEO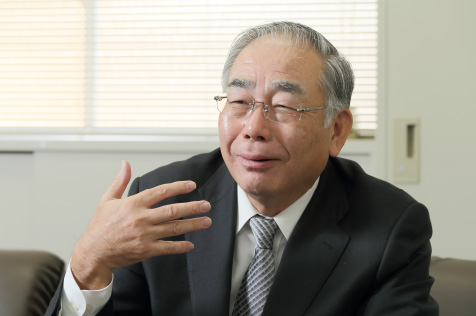 We strive to demonstrate competitive
advantages as a trading company
and to contribute to the sound development
of the world economy.
After the second industrial revolution, developed countries have been major players in the world economy. However, now is the time for developing countries to take active roles and the world GDP is expected to increase by 1.5 times. The number of automobiles will increase worldwide, followed by increase in demands for road construction and maintenance. The role of Tomoe Group selling construction machinery and automotive parts will be larger so we need to clearly demonstrate competitive advantages in cost, quality, and delivery performance as a Japanese trading company that is not a common business form in the world. We strive to build a more effective organization to enhance our presence in Japan, China, Southeast Asia, and the United States and to expand into other developing countries. Tomoe Group's goal is to be an trading company with sustainable growth, a long-term vision and accountability that is indispensable for the sound development of the world economy.
Hideto Yanase, President and COO