Our Business
We respond to our customers with services
in three fields: Industrial Equipment Parts,
Automotive Aftermarket Parts and Industrial Parts.
Tomoe Group, that started as a automotive parts trading company, is expanding the area of business with the times. Our business domain now includes construction equipment parts and industrial parts, and we offer various products and services by utilizing synergy effects.
Our guiding principle is to fulfil the customer requirements using every resource so we respond to various customer needs by sharing knowledge and expertise accumulated by each employee across area boundaries.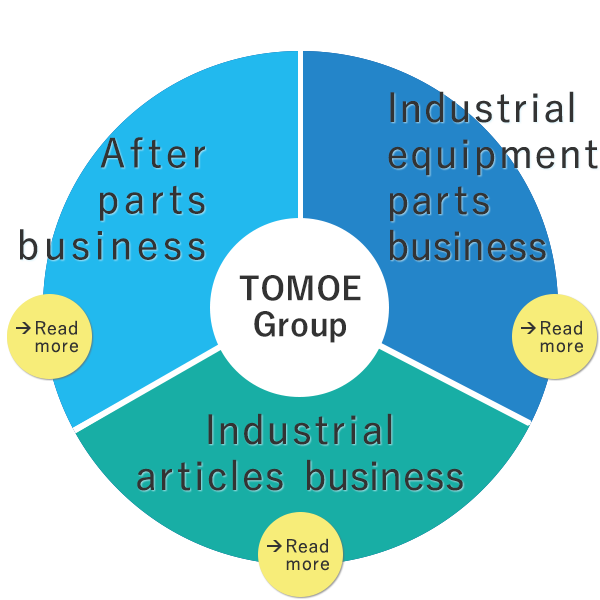 Tomoe Group's Advantage
(1) Development

Thorough support from planning
and development to production
and maintenance

Coming up with proposals of concepts and modules while utilizing accumulated expertise and know-how as a specialized trading company, we provide best solutions that balance between efficiency and cost desired by our customers.
(2) Quality

Having our own quality control function
to provide highly accurate products

Even though we are a trading company, we have our own quality control function and have obtained ISO 9001 certification. We not only can procure and sell products but also can provide stable quality products continuously.
(3) Logistics

Efficient logistics operations backed
by an excellent domestic
and international network

We have domestic bases in five cities and overseas bases in three cities. We can flexibly respond to customer needs backed by our global network of domestic and international sites.